The Wedding Page of Richard Guy Briggs and Carole Sauvé
---
Carole Sauvé and I just got married August 29th, 1998.
We think the use of such a vehicle is a first. It is RALOS: an experimental solar racing vehicle which has participated in competitions in at least two different countries. The vehicle was a University of Ottawa Faculty of Engineering, Department of Mechanical Engineering student project from 1990 to 1996.
(
personal photos)
Here's one from Gene Villeneuve: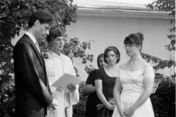 photo
Here are a few photos from Bill and Sue Van Iterson:

(c) Susan and Willem Van Iterson, 1998
With the rest of their offering here
And a few of the fabulous shots from (George) Karam Custom Photographic Services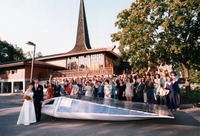 photos
---
Last modified: Fri Aug 3 14:13:39 EDT 2018 . Please email me for more info.